Overview
At Sound & District Primary School we strive to enable children to be fully literate and articulate. We want them to be fully prepared for their secondary education and later life. Through engaging lessons, we aim to foster a love of English and an enjoyment of learning. English enables children to express themselves creatively and imaginatively. They will become enthusiastic and critical readers of stories, poetry and drama – as well as non-fiction and media texts. We challenge children of all abilities and strive for excellence. Children are encouraged to have a growth mind-set and to develop the skills of perseverance and resilience. Through reading in particular, pupils are given a chance to develop culturally, emotionally, intellectually, socially and spiritually. We celebrate children's hard work and effort, as well as their success. They are encouraged to revisit their work, making changes and developing their ideas to ensure they achieve their best.
Curriculum statement
'Teachers should develop pupil's spoken language, reading, writing and vocabulary as integral aspects of the teaching of every subject. English is both a subject in its own right and the medium for teaching; for pupils, understanding the language provides access to the whole curriculum. Fluency in the English language is anessential foundation for success in all subjects.'
(National Curriculum English, 2014, Pg. 10)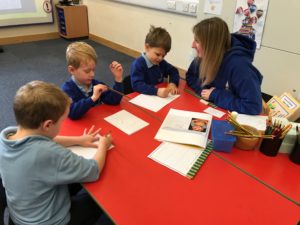 READING
"If students don't love what they're reading, they'll never learn to love to read, " Jan Richardson
It is vital for children to learn the skills of reading so they can enjoy a variety of fiction and non-fiction books. We teach whole class reading sessions to ensure that all the children are explicitly taught the skills of reading. Reading lessons for each week are planned and taught to focus on  one or more of the reading skills that children are expected to learn. Lessons are planned either around the class text or extracts from other texts both fiction and non-fiction. We use Reading  VIPERS, which were created by Rob Smith (Literacy Shed), to help teach the children the skills of reading and delving deeper into texts. 
The Reading Vipers can be used by both KS1 and KS2 with a little adaption. The main difference being in the S.
Sequence- KS1
Summarise-KS2
Reading Schemes Early Years and KS1
Our main scheme for the teaching of reading in Early Years and Key Stage One is Collins Big Cat, which is a whole school programme that provides complete support for primary reading. This progresses to hundreds of levelled readers to support the children's independent reading. In addition, we have a number of The Oxford Reading Tree and Oxford Reading Tree Tops books as well as Snap Dragon, PM Benchmarkers & Alpha Kids.However, this is by no means used exhaustively as teachers dip into a broad range of English resources including media for study purposes, Literacy Shed activities and cross-curricular links, particularly for whole class reading.
The children are regularly assessed using PM Benchmarking which enables rapid progression through the levelled reading bands.
Reading KS2
At Sound, we love to encourage our children to read for pleasure and to improve their skills when interpreting a range of texts. To promote individual reading at home and at school in KS2 , we use Accelerated Reader as this helps us to assess exactly what age our children are reading at and identify areas for their development. From Year 3 onwards, children begin their Accelerated Reader journey. Accelerated Reader aims to assess your child's reading age and identify areas of development in reading skills against the objectives of the National Curriculum. Reading ages are assessed through the completion of a Star Test (an online reading test that the children take 4 times per academic year) which generates a ZPD number.
For further information about Accelerated Reader, click on the link below:
WRITING
Learning and Teaching
Each year group will cover a balance of Narrative, Non-Fiction and Poetry text types. We use the National curriculum 2014 to support our coverage of English skills. This is then supported by the key principle of Talk for Writing/The Primary Writing Project (Pie Corbett/Julia Strong), which underpins our planning and delivery of English; from Reception to Y6.
This involves:
making explicit the processes and thinking involved in the writing process so that ultimately they can be internalised and applied by children in their own writing.
Talk for Writing will be embedded in every phase of the 'Teaching Sequence' and used frequently both within English lessons and across the curriculum. Teachers use Talk for writing books/documentation, to support their planning and delivery of English.
In summary, writing follows the sequence of the 'Three Is';
 Preparation
In preparation for planning the teaching of the new genre, children complete a Cold Task. This is used to inform the teacher which specific language features, grammar foci, word and sentence level activities are needed to be planned for within the teaching process. Genre targets and individual grammar targets are set from this and shared with the pupils.
Imitation
This is the stage of the unit where children are immersed in the text type. Children will become familiar with the language rhythms and patterns that are involved within the text. It is impossible to write a sentence pattern without being able to say it. This helps children to internalise the patterns of language, children may refer to this as 'talking the text'. Key vocabulary is identified and displayed to be referred to throughout. This is where a writer's toolkit may be created and further exploration into grammatical features and deeper meanings may be explored. Children may explore other similar texts; they may draw upon underlying structures and language features of the original model to create their own version.
Innovation
Using internalised techniques and structures children now start to imitate and invent a new idea; this may be a character, story line, text-type etc. At this stage children will move to becoming more independent writers. Children will be encouraged to write within the same text type, but may choose different topics that interest and intrigue them.
Modelled, shared, guided and independent writing will be evident throughout this sequence and will support both independent and groups of children, following teachers' formative assessments.
Assessments will inform shared writing and will inform the groups that are needed for guided writing.
Rich texts will be used as a stimulus for the writing sequence, a range of texts may be used throughout; alongside the main text.
 Invention
This is where pupil write a new piece of writing from a new stimulus. This is called the Hot Task and is used to identify whether targets from the Cold task have been achieved.